Planning a fairytale Christmas can be fun, exciting and full of festivities, but it can also be damaging to your bank account if you're not careful. It's a time of year that we want to be special and we often feel the need to overspend in order to achieve that feeling, however, a Christmas on a budget can still create lifelong memories.
In today's post, we're going to talk about some crucial budgeting tips that will allow you to have a magical Christmas without the financial worries some of us live with throughout the weeks and months after.
Make a budget before planning
The majority of us make a plan for Christmas that covers everything: from the food, presents and decorations, to festive activities like going for a mulled wine at the local Christmas market, ice skating at the local pop-up ice rink or watching a Christmas pantomime. What some of us forget to do, however, is make a budget to figure out whether we can do everything we want to.
Before you start making a plan of what you'll be doing and buying over the festive period, sit and pin down how much money, realistically, can be dedicated to Christmas and stick to it – you'll thank yourself for it in the New Year when you're not having to play catch up. Plan it week by week and have your diary to hand to see what social events you already have pencilled in.
At this point, it might be wise to split your overall budget into two different pots, one for presents and one for events and occasions. Once you've figured out how much money is available you'll be able to begin planning a Christmas that's magical but realistic.
Get a Christmas savings account
One of the best ways to make sure you're in a solid financial position for Christmas is to set up a savings account with the sole purpose of saving money to cover the food, presents, social activities and all the other things that December brings. Budget your monthly outgoings throughout the year as much as you can, making room to put Christmas money aside for the festive expenditures. Do most of the saving before your November paycheck and you'll be setting yourself up to avoid the January bank balance blues.
Avoid impulse buying
Impulse buying: we've all been there and we've all done it – usually immediately after payday. Mix paydays and the festive period together and you have an environment raft with opportunities to splurge on unneeded goods. The buy one get one frees, the discounted prices and the 2-4-1s are tempting, we get it, but don't get caught in the trap!
Make a list of Christmas gifts you want to buy and stick to it – this will help you steer clear of unnecessary purchases. If you do get pulled in to the odd impulse buy then go back to your list and replace it with something else that was on there – as this way you can stick to buying the Christmas gifts on a budget you set out and avoid spending double.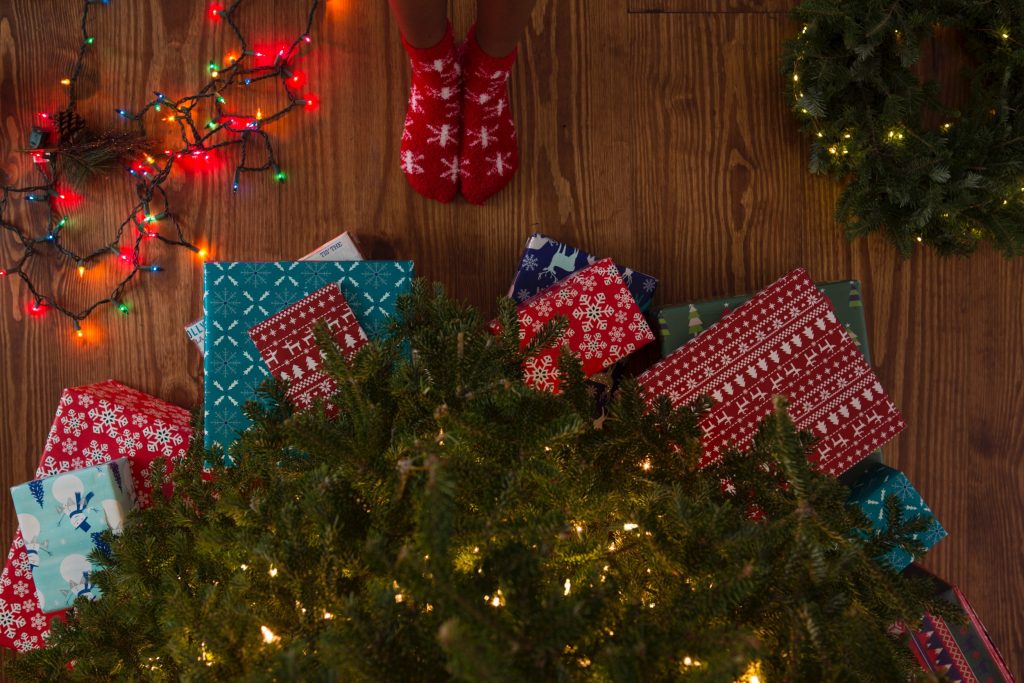 Ban unnecessary gifts
This one is particularly good for those of you with big families. You might feel the pressure to buy everyone a gift and like you're chucking money away on pointless presents that you're not sure if someone will want or like. If you find yourself in this position, then why not make a deal with family members that this year you won't buy each other gifts? Instead, you could arrange to spend an evening eating festive treats, drinking mulled wine and playing a good old board game together with a small donation from everyone towards the costs.
Alternatively, if not buying gifts for certain people is out of the question, consider buying a combined gift. Whether it's a couple or a family of 4 you're buying for, set a budget for them and look at buying a gift for the group as a whole, such as cinema tickets, a meal voucher or an experience that they can enjoy together rather than buying them individual gifts.
We hope that by following our tips you can have a calm Christmas shopping experience knowing how much you can spend, without all the stresses and guesses.
If you're keen to make your money go further or to save what you do have more wisely, dive into the Jolly Good Loans blog for tips and ideas.