Renovating your home can be a great way to add value to your property, while also improving the quality of your living space, but there's no escaping the fact that these projects require money to get off the ground – regardless of how major or minor the planned updates are. Of course, one way to fund home updates is to use savings – but for many homeowners, this isn't always an option. Securing a home improvement loan could be, though.
To find out all you need to know regarding house renovation loans and whether they're the right avenue for you, read our guide right here.
What is a home improvement loan?
A home renovation loan is generally an unsecured personal loan, which is paid back in full with interest, within an agreed time period over a series of monthly instalments. Unlike secured loans, these types of loans aren't guaranteed against your equity or personal assets. This does have its advantages, as you won't risk losing your home or assets if you're unable to repay the loan – but unsecured loans do tend to have higher interest rates, as lenders see them as a greater risk.
The amount you can borrow with these types of loans can be vary from a few thousand pounds up to £25,000 and beyond – providing you meet the lender's criteria.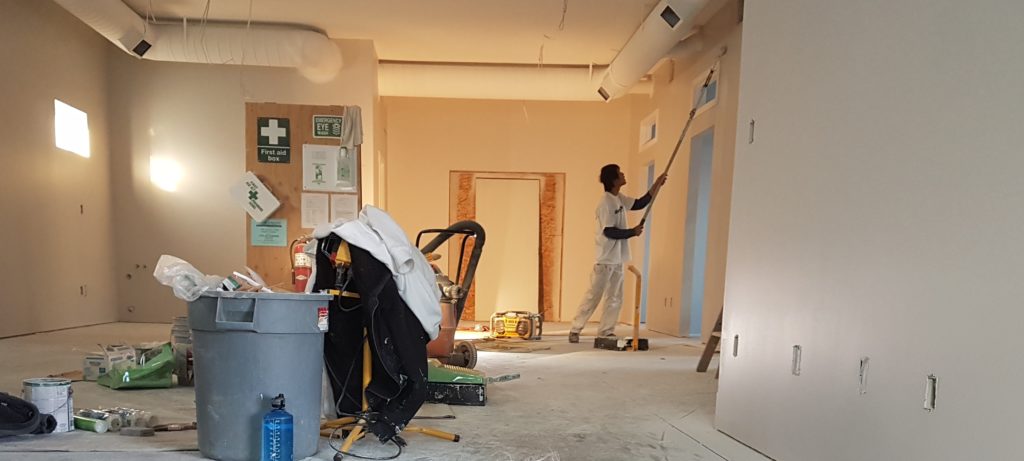 Who's eligible for home improvement loans?
Home improvement loans are in principle available to anyone, but loan amounts, interest rates and terms vary widely based on your personal financial circumstances – so it's wise to shop around to find the most suitable home improvement loan options for you.
Typically, the personal home renovation loan market is utilised by homeowners with higher incomes, who are seen as a lower risk due to better financial credentials for loan repayment. Therefore, the best low-interest home improvement loans with attractive payment plans are awarded to candidates who fit into this category.
While they may not have access the best home improvement loans available, even those with a low credit score can also be eligible – but expect higher home renovation loan interest rates and less flexibility when it comes to the types of loans available to you.
Advantages of home improvement loans
Whether you're looking to fund a costly home extension or a new budget-friendly bathroom, house renovation loans can be a very appealing borrowing solution. With repayment and interest rates fixed for the entire term, it can make it easier to budget for the additional monthly outlay and keep track of your outstanding debts.
Most personal loans also allow the option to spread the payment over 12 to 36 or even 60 months, giving you greater flexibility on when you pay it back. While this can make it more affordable for borrowing larger amounts or working on a tight budget, it's worth noting that you'll end up paying more in interest fees the longer the loan term is.
In addition, some lenders also offer the option to take a payment holiday, typically for 2-3 months, whereby you can skip repayments. This can offer welcome relief when unforeseen expenditures crop up, but the payment holiday should always be agreed with the lender in advance – otherwise you risk affecting your credit score with missed payments.
Disadvantages of house renovation loans
There are various factors that can affect the amount you're able to borrow and the rates you're required to pay – but generally, the best home improvement loan rates are available to those who pay back the amount over 3 or 5 years. Therefore, if you're looking to secure finance and pay it back over a shorter period, you may be subject to less attractive interest rates.
As with any financial loan, inevitably your personal finance and credit score are taken into consideration. So, if you have a low credit rating or less than favourable financial circumstances, you may not be deemed eligible or you may be forced to pay higher-than-average rates.
A further disadvantage of applying for personal credit is that this leaves a record on your credit report each time you apply, as well as a record of any rejected applications. For this reason, before you dive into applying for multiple loans at once, it's recommended you shop around and exercise caution to ensure you're being realistic with the applications you submit. Too many credit requests in a short space of time will make you a higher risk prospect to lenders.
Taking out any form of loan or credit comes with an element of risk, so it pays to do thorough research beforehand and to seek financial advice. With any amount borrowed, you need to be sure you're able to make the repayments for the duration of the term – even if your circumstances change (e.g. losing your job or suffering from poor health).
While unsecured home improvement loans with no equity may be the miracle solution you're looking for, the truth is that interest rates are unavoidable in the world of credit. It may also be that this type of loan isn't suitable for you, if you wish to borrow larger amounts or you have concerns with bad credit.
There are other loan options available, such as secured homeowner loans, and our blog is brimming with up-to-date articles on finance news and budgeting tips – helping readers make the best decisions for a brighter financial future.