When it comes to planning your dream wedding, it's understandable that couples will want to pull out all the stops out to ensure it's a truly magical day for both them and their guests. But, with the average UK wedding costing between £18,000 and £22,000, many couples and even parents who want to contribute can face an uphill struggle in financing their big day without sufficient savings put aside.
One viable option could be to take out a personal loan for the wedding, and this guide will run through the ins and outs of wedding financing to help you decide if getting a loan for a wedding is the right course of action to fund the wedding of your dreams.
Can you get a loan for a wedding?
Despite being referred to as 'wedding loans' or sometimes 'marriage loans', wedding day loans aren't actually a financial product in themselves. They are, in fact, a personal loan you take out to help you fund a wedding – be it your own wedding or that of your child.
Typically offering the opportunity to borrow between £7,500 – £15,000, personal wedding loans with low interest rates and varied repayment periods (ranging from 12 to 60 months) are undoubtedly an effective, affordable and convenient way to increase your wedding fund. However, before you embark on applying for wedding loans online or through a bank, it's important to weigh up the pros and cons of falling into debt – and the financial and emotional burdens which come with it.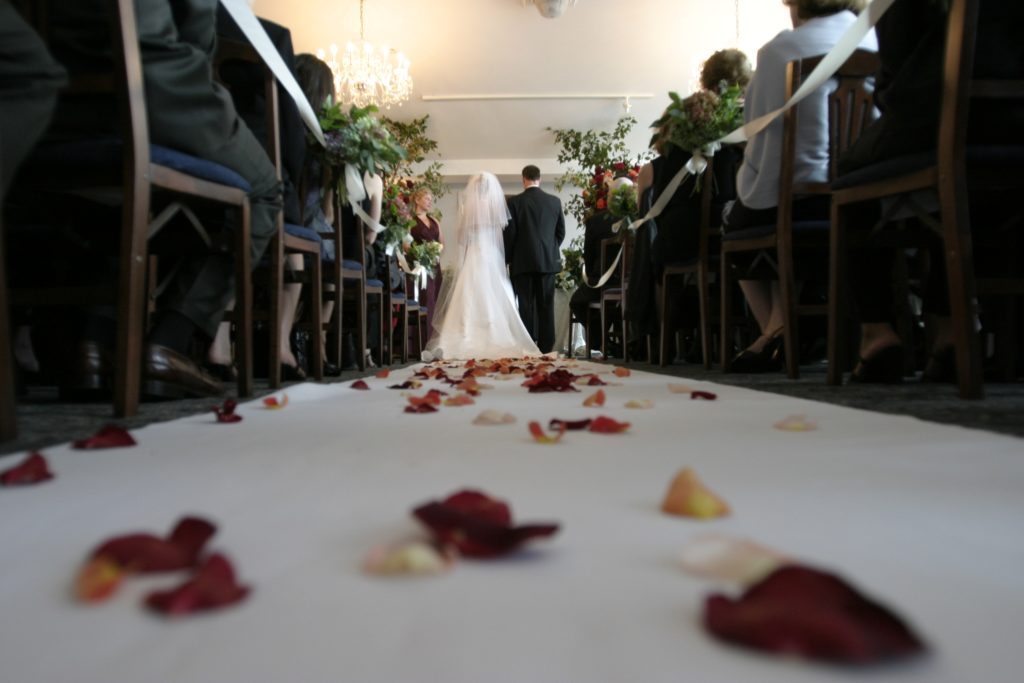 The pros of wedding loans
In an ideal world, your big day would be paid for with savings specifically put aside for this purpose, but this isn't always feasible and may not even cover all the expenses involved – which is where getting a loan for a wedding can offer an attractive solution to bridging the gap.
If you're considering taking out a personal loan for a wedding, they do come with some advantages, as these kinds of personal finance loans tend to boast low interest rates – making the monthly instalments more manageable in the long term.
Furthermore, the interest rates and monthly repayments are fixed for the entire term of the loan, which makes it easier for borrowers to budget their repayments. With the ability to choose your own repayment term, you're able to spread the cost of borrowing over a shorter or longer period to suit your personal circumstances. This affords you the option to either reduce the amount of interest you pay on the loan overall by opting for a shorter term – although the monthly instalments will, of course, be higher.
Alternatively, you can reduce the monthly payments by spreading the cost over a longer period, which will mean you pay more interest over the lending period (and a greater amount overall), but monthly payments will be lower.
With some personal loans for weddings, lenders also offer a repayment holiday clause at the start of the lending term – typically around 2-3 months – whereby you can temporarily pause repayment. After the expense of a wedding, this can help to alleviate the financial pressure and ensure you can enjoy the first few months without the worry of having to pay the money back straight away.
The cons of wedding loans
As with any personal loan, taking out finance for a wedding is not a decision that should be entered into lightly. Before you commit to this option, it's imperative to fully assess your current financial situation and feel confident you will be able to afford the repayments for the full loan term – any missed payments or if you default on the loan completely, will affect your credit rating.
With regards to credit ratings, this is one of the key considerations wedding loan lenders take into account, along with your current financial circumstances, to decide how much you can borrow and the interest rate. This means that the best wedding loans with low interest rates, will be awarded to borrowers with good credit rating and a healthy financial portfolio. Those with low credit scores or black marks on their record will be offered higher interest rates or possibly declined personal finance entirely.
When considering your options, it always pays to run a credit check first to ensure you have a full understanding of your credit rating and history – especially given that any personal loan applications or rejected applications will show up on your record. Importantly, applying for a number of loans within a short period of time will be clearly visible on your credit record, which lenders look at as part of their decision-making process when determining whether or not to approve an application.
For this reason, it's highly recommended to exercise caution when deciding whether or not to apply for this or any other kind of loan, as a succession of rejected applications paint a picture of a high-risk applicant in the eyes of lenders.
Finding the right wedding loan
If you've exhausted all other avenues for wedding financing and are still in the mind-set that taking out loan for a wedding is the best financial option for you, make sure you get the best deal possible by shopping around.
Do thorough research into current loans available on the market and also create a strict wedding budget to ensure the amount you borrow will be sufficient to cover your costs, as well as an affordable amount to pay back. We would also recommend seeking financial advice before committing to any loan agreement to allow you to make a fully informed decision.
It goes without saying that having your finances in order and achieving a good credit score will go a long way towards securing you the best possible deal, but even borrowers with bad credit scores can still be eligible for wedding financing. As a poor credit holder, however, you'll need to be prepared to pay higher interest rates and face tighter restrictions due to being deemed a higher risk to lenders.
While wedding loans can be a viable and attractive solution for many couples and parents looking for additional capital to plan the perfect wedding day, the truth is it may not be the most appropriate solution for everyone. If you'd like to learn more, head to our blog, where you'll find the latest industry updates, as well as insights galore on wedding loans, home improvements loans and more.